Program Directors & Campus Partners
Initial communication about this year's fair has been sent! For questions about setting up your Flipgrid page or signing up for an information session, please email ereese31@gatech.edu.
Information to Program Directors about Gatherly will be coming next week!
Keep in Touch
Be sure to follow us on Instagram and Facebook - @GTABROAD for more updates.
If you have questions, feel free to reach out to education.abroad@oie.gatech.edu!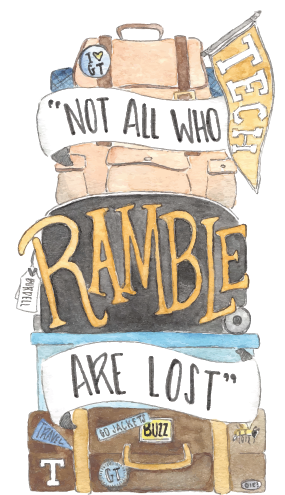 What Can I Do at the GT Education Abroad Fair?
Whether you are trying to decide between a specific study abroad program or just exploring your options, the GT Education Abroad Fair is your chance to get information from dozens of programs and universities that offer international opportunities. We suggest starting your fair week by watching information videos via Flipgrid Monday, October 5th, at your leisure, then scheduling which webinar you'd like to attend throughout the rest of the week! Meet students virtually who could potentially participate in the same program as you, speak to former participants, find out more about some of our partner institutions, and learn about the variety of study abroad choices at GT. Then, be sure to follow up on programs that spark your interest!
Don't forget, Advisors will always be available to speak with you about what you need to know before studying abroad, specific programs, and scholarships!
How Do I Prepare for the Fair?
Here are some tips for getting the most out of the Education Abroad Fair.
Identify Your Study Abroad Goals
Do you want information on a specific program, country, or region?
Are you interested in a summer program, semester, or academic year abroad?
Maybe you're just exploring. That's okay too!
Formulate a Plan
Review the list of exhibitors on FlipGrid.
Be sure to make a list of your "must-visit" virtual information sessions.
Make Contact
Tune into the Fair on October 5 on FlipGrid and ask program representative(s) questions about credits, classes, costs, scholarships, application deadlines, etc. 
Note when their information session is throughout the week. If you can't make it, be sure to follow up with them if you have more questions.
Peer Advisors, volunteers, and student program representatives will be in attendance. Talking to any of these student volunteers is a fantastic way to learn first-hand what to expect from your study abroad experience.
Sign up for mailing lists under the Program Director's discretion and jot down email addresses to get more information on your favorite programs.
Stay in Touch
After you leave, use the knowledge you gained at the Fair to inform your decision-making process.
Follow up with advisors and program coordinators to raise additional questions or concerns you might have.
Apply!